AeroSpace, Technology Research and Operations (ASTRO) Center
The Mission of the ASTRO Center is to advance the state-of-the-art in AeroSpace, Technology Research and Operations by developing new technologies, building collaborations between academia, industry, and government, and engaging with students to stimulate STEM education.
The ASTRO Center has assembled a unique combination of staff, facilities and alliances to provide clients with state of the art research and program support. ASTRO Center leverages its close association with Texas A&M University College of Engineering faculty and students, and other collaborating engineering agencies to execute a variety of complex projects of significant interest to the space community.
The ASTRO Center is also committed to providing extensive outreach opportunities in the STEM field to undergraduate college students and levels K through 12 in the State of Texas.
Director: Gregory Chamitoff

Space Co-Director: Daniele Mortari

Near-Space Co-Director: Sharath Girimaji
Space Research
From space proximity operations to debris removal and autonomous navigation, ASTRO houses many kinds of space research.
Theoretical and Experimental
STEM Outreach
Educational outreach is a priority for the ASTRO Center. Every semester a variety of robotics, aerospace and related events are supported by its members.
Student organizations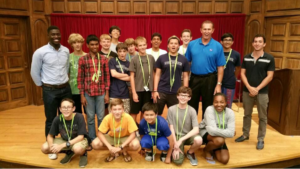 Mauricio Coen
The finalist teams from each state. Texas A&M University invited 5 Zero Robotics Middle Schools to Johnson Space Center for the Final Event, held August 12th 2016. The winning teams from [...]
Mauricio Coen
The Zero Robotics Middle School Program is officially a go for 2016! The ASTRO Center and PK-12 Engineering Education Outreach will be supporting the Texas teams with financial assistance and educational outreach [...]
Mauricio Coen
The AggieSat4 (AGS4) satellite carrying Bevo-2 was unpacked and assembled aboard the International Space Station (ISS) on Wednesday (Jan. 27), and was released into outer space on Friday (Jan. 29). AggieSat4 launched [...]